Play

Play Next

Add to queue
Play

Play Next

Add to queue

2,122 plays

Play

Play Next

Add to queue

48,226 plays

Play

Play Next

Add to queue

64,484 plays

Play

Play Next

Add to queue

36,773 plays

Play

Play Next

Add to queue

60,331 plays
Genre: Comedy / Hip Hop / Pop

Location Portland, United States

Profile Views: 477299

Last Login: 5/6/2013

Member Since 2/16/2005

Website www.Chicharones.com

Record Label Camobear Records

Type of Label Indie

Bio

<img style="visibility:hidden;width:0px;height:0px;" border=0 width=0 height=0 src="http://counters.gigya.com/wildfire/IMP/CXNID=2000002.0NXC/bT*xJmx*PTEyOTExNjc4MjY1ODAmcHQ9MTI5MTE2Nzg1NDExOCZwPTI3MDgxJmQ9dmVudWVfc2hvd3NfZmlyc3RfZ2VuJmc9MSZv/PTZhODkxY2M1ZmE*MTQ*OWRiNzFmOWNmZjYyNzYyODM2Jm9mPTA=.gif" /><embed type="application/x-shockwave-flash" src="http://cache.reverbnation.com/widgets/swf/14/venue_schedule.swf?venueId=label_20616&backgroundcolor=EEEEEE&font_color=000000&posted_by=label_20616" height="600" width="434" /><br /><a href="http://www.reverbnation.com/rpk" onclick="javascript:window.location.href="http://www.reverbnation.com/c./a4/14/20616/Label/20616/Label/link"; return false;"><img alt="Press kits" border="0" height="19" src="http://c2sostatic.reverbnation.com/widgets/content/14/footer.png?1" width="434" /></a><br /><img style="visibility:hidden;width:0px;height:0px;" border=0 width=0 height=0 src="http://www.reverbnation.com/widgets/trk/14/label_20616/label_20616/t.gif" /><a href="http://www.quantcast.com/p-05---xoNhTXVc" target="_blank"><img src="http://pixel.quantserve.com/pixel/p-05---xoNhTXVc.gif" style="display: none" border="0" height="1" width="1" alt="Quantcast" /></a> .. ...... ........ .. Impossible! Flying pigs fill the sky. Cheap tequila is swilled in bars and discos around the globe in celebration. The Chicharones, composed of Sleep of Oldominion and Josh Martinez, have kept fans, tour action, sales, and respect during a 3 year group hiatus, between solo releases. Since releasing their last album When Pigs Fly (Camobear Records 2006), they have toured the world ten times over, collaborated with the who's who of underground pop, released solo albums and become international celebrities. Back together, after a messy break up, the bromance is on and popping and at long last, the great Chicharones have returned! Much has happened in the three years since their last release "When Pigs Fly". .... Josh Martinez has been on the moustache ride of his life. Never easy to categorize, The People's Champ is one of the most diverse artists in the music game, surpassing the limitations of indie hip hop by pursuing an "innovative and entirely unique hybrid of clever pop melodies and intelligent, layered songwriting that borrows from everywhere and sounds like nothing else." (Spin) Having sold 100,000 copies of his ten album body of work, "Martinez brand of music is instantly identifiable and entirely unique." – (Exclaim) Coming off a life and death battle with life and death, Martinez has produced a musical masterpiece called The World Famous Sex Buffet (Camobear Records 2008), starring Devin The Dude, Classified, Mother Mother, Moka Only and Pigeon John. With 5 videos, a radio and press campaign, and chart topping successes in Canada, France and Japan, finally, the world is spreading its legs for the People's Champ. .... Sleep, bottomless coffee mug in hand, has not slept in months to produce his Sage Francis-infused, return-to-darkness opus, Hesitation Wounds. With Sleep's Christopher (Up Above Records 2007) selling in excess of 25,000 copies, Sleep has carved himself a special place in the minds of hip hoppers who want their music with heart. After a breakout project with reggae legend Zelly Rock, Combination Locked (Camobear Records 2008), Sleep has gone all out and produced a masterful opus, written with his characteristically brilliant cadences, sweetheart rhymes and every man observations over blazing future music soundscapes. His new album Hesitation Wounds will be released by Strange Famous Records in spring 2009 and will bring Sleep a whole new level of exposure. .... The Chicharones have toured the world together, solo and with live bands, and learned countless new tricks along the road. From Sleep's magic tricks and quick change routines, to Martinez's beer balancing and hi kicking Elvis dance moves, they are taking over the world with their insanely energetic live shows. A bash your brains, get drunk, cheer, scream and screwfest, a Chicharones show is a need-to-be-seen-to-be-believed extravaganza. Never asking the audience to make noise, nor demand a crowd's hands in the air, these fake-mustachioed amigos use comedy, high kicks, pitch-perfect harmonies and costume changes to leave audiences in an ecstatic Beatles-esque furor. These banditos have become hip hop legends by converting every crowd from awkward rangy newbies, into diehard fans. .... Swine Country, a brand new EP of legendary songs, is a definitive statement of explosive growth for a duo at the absolute peak of their creative powers. These are songs inspired by James Dean, heist movies, broken hearts and sweet, sweet revenge. They are also part of the larger, genre-bending hip hop musical Sow Side Story, a hip hop musical, more greasy than Grease, more graceful than your grandmother, slated for summer 09 release. Swine Country is host to doo wop harmonies, adult-rated Dr. Seuss rhymes and the incredible interplay between two of rap's finest, most accomplished artists. Swine Country is Pharcyde meets Dick Dale, Kurt Kobain meets Frankie Lymon. It's fedora wearing hip hop music with the swagger of rebellion, and all the tenderness of a mother's touch. Get down and dirty. You'll thanks us for it later. .... 'Josh's insightful, socially-aware lyrics and evocative voice, paired with Sleep's mastery of complex rhyme schemes and rapid fire delivery, brings a forward thinking album, ready to break through musical barriers' - Exclaim Magazine .. .. .. .. ....BUY.... .... .. .. .. .. .. .. .. .. .. ....VIDEOS.... ...... Straight Outta Noggin........ .. .. .. .. .. .. .. .... ...... Breaking Point.... ...... .. .. .. .. .. .. .. .... ...... Taco Wagon.... ...... .. .. .. .. .. .. .. .. ...... ...... Surf Rock.... ...... .. .. .. .. .. .. .. .. .. .. .. ...... ...... Pork Rind Disco.... ...... .. .. .. .. .. .. ...... ...... Once Upon a Time.... ...... .. .. .. .. .. .. .. .. .... .. .. .. ...... .. ........ ...... .. ........

Members

Josh Martinez (vocals), Sleep of Oldominion (vocals), DJ Z-One (magic, turntables, mpc, back-up vocals)

Influences

Beatles, Beach Boys, Beastie Boys, Beck, Black Keys, Simon & Garfunkel, Atmosphere, Doo-Wop ......

Sounds Like

.. .... .. .. .. .. .. .. .. .... .. ............ .......... .... ......THE CHICHARONES - SWINE COUNTRY EP.. ........ ..MP3 DOWNLOAD.. .. ....JOSH MARTINEZ - SEX BUFFET MIXTAPE.. ........ ..MP3 DOWNLOAD.. .. ....JOSH MARTINEZ - & THE WORLD FAMOUS SEX BUFFET.. .. ........MP3 DOWNLOAD.. .. ....SLEEP & ZELLY ROCK - COMBINATION LOCKED.. ........ ..MP3 DOWNLOAD.. ....JOSH MARTINEZ - SKULLDRUGGERY EP .. ........ ..MP3 DOWNLOAD.. .. ....THE CHICHARONES - LIVE IN BOZEMAN.. ........ ..MP3 DOWNLOAD.. ...... JOSH MARTINEZ & AWOL ONE - SPLITTSVILLE EP.. ........ ..MP3 DOWNLOAD.. ....THE CHICHARONES - WHEN PIGS FLY.. ........ ..MP3 DOWNLOAD.. ....THE CHICHARONES - PORK RIND DISCO EP.. ........ ..MP3 DOWNLOAD.. ....SLEEP - CHRISTOPHER.. ........ ..PHYSICAL CD.. ....JOSH MARTINEZ - MIDRIFF MUSIC.. ........ ..MP3 DOWNLOAD.. ....JOSH MARTINEZ - AND THE HOODED FANG.. ........ ..MP3 DOWNLOAD.. ....JOSH MARTINEZ - BUCK UP PRINCESS.. ........ ..MP3 DOWNLOAD.. ....THE CHICHARONES.. ........ ..MP3 DOWNLOAD.. ..
03:17 | 237 plays | Dec 23 2009
Bio:
..
---
Impossible! Flying pigs fill the sky. Cheap tequila is swilled in bars and discos around the globe in celebration. The Chicharones, composed of Sleep of Oldominion and Josh Martinez, have kept fans, tour action, sales, and respect during a 3 year group hiatus, between solo releases. Since releasing their last album When Pigs Fly (Camobear Records 2006), they have toured the world ten times over, collaborated with the who's who of underground pop, released solo albums and become international celebrities. Back together, after a messy break up, the bromance is on and popping and at long last, the great Chicharones have returned! Much has happened in the three years since their last release "When Pigs Fly".
Josh Martinez has been on the moustache ride of his life. Never easy to categorize, The People's Champ is one of the most diverse artists in the music game, surpassing the limitations of indie hip hop by pursuing an "innovative and entirely unique hybrid of clever pop melodies and intelligent, layered songwriting that borrows from everywhere and sounds like nothing else." (Spin) Having sold 100,000 copies of his ten album body of work, "Martinez brand of music is instantly identifiable and entirely unique." – (Exclaim) Coming off a life and death battle with life and death, Martinez has produced a musical masterpiece called The World Famous Sex Buffet (Camobear Records 2008), starring Devin The Dude, Classified, Mother Mother, Moka Only and Pigeon John. With 5 videos, a radio and press campaign, and chart topping successes in Canada, France and Japan, finally, the world is spreading its legs for the People's Champ.
Sleep, bottomless coffee mug in hand, has not slept in months to produce his Sage Francis-infused, return-to-darkness opus, Hesitation Wounds. With Sleep's Christopher (Up Above Records 2007) selling in excess of 25,000 copies, Sleep has carved himself a special place in the minds of hip hoppers who want their music with heart. After a breakout project with reggae legend Zelly Rock, Combination Locked (Camobear Records 2008), Sleep has gone all out and produced a masterful opus, written with his characteristically brilliant cadences, sweetheart rhymes and every man observations over blazing future music soundscapes. His new album Hesitation Wounds will be released by Strange Famous Records in spring 2009 and will bring Sleep a whole new level of exposure.
The Chicharones have toured the world together, solo and with live bands, and learned countless new tricks along the road. From Sleep's magic tricks and quick change routines, to Martinez's beer balancing and hi kicking Elvis dance moves, they are taking over the world with their insanely energetic live shows. A bash your brains, get drunk, cheer, scream and screwfest, a Chicharones show is a need-to-be-seen-to-be-believed extravaganza. Never asking the audience to make noise, nor demand a crowd's hands in the air, these fake-mustachioed amigos use comedy, high kicks, pitch-perfect harmonies and costume changes to leave audiences in an ecstatic Beatles-esque furor. These banditos have become hip hop legends by converting every crowd from awkward rangy newbies, into diehard fans.
Swine Country, a brand new EP of legendary songs, is a definitive statement of explosive growth for a duo at the absolute peak of their creative powers. These are songs inspired by James Dean, heist movies, broken hearts and sweet, sweet revenge. They are also part of the larger, genre-bending hip hop musical Sow Side Story, a hip hop musical, more greasy than Grease, more graceful than your grandmother, slated for summer 09 release. Swine Country is host to doo wop harmonies, adult-rated Dr. Seuss rhymes and the incredible interplay between two of rap's finest, most accomplished artists. Swine Country is Pharcyde meets Dick Dale, Kurt Kobain meets Frankie Lymon. It's fedora wearing hip hop music with the swagger of rebellion, and all the tenderness of a mother's touch. Get down and dirty. You'll thanks us for it later.
'Josh's insightful, socially-aware lyrics and evocative voice, paired with Sleep's mastery of complex rhyme schemes and rapid fire delivery, brings a forward thinking album, ready to break through musical barriers' - Exclaim Magazine
BUY
---
VIDEOS
Straight Outta Noggin
Member Since:
February 16, 2005
Members:
Josh Martinez (vocals), Sleep of Oldominion (vocals), DJ Z-One (magic, turntables, mpc, back-up vocals), Scotty Del Preston (bass, back-up vocals), Chase Pingree (drums)
Influences:
Latryx, Ahmad, Beach Boys, Kid n Play, Juggaknots, Nas, Simon & Garfunkel, Oldominion, the cuntry of Canada, booze, weed, enlightenment.
Sounds Like:
THE CHICHARONES - SWINE COUNTRY EP
MP3 DOWNLOAD
JOSH MARTINEZ - SEX BUFFET MIXTAPE
MP3 DOWNLOAD
JOSH MARTINEZ - & THE WORLD FAMOUS SEX BUFFET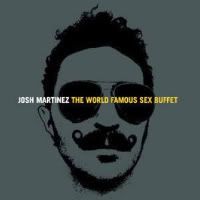 MP3 DOWNLOAD
SLEEP & ZELLY ROCK - COMBINATION LOCKED
MP3 DOWNLOAD
JOSH MARTINEZ - SKULLDRUGGERY EP
MP3 DOWNLOAD
THE CHICHARONES - LIVE IN BOZEMAN
MP3 DOWNLOAD
JOSH MARTINEZ & AWOL ONE - SPLITTSVILLE EP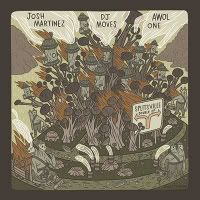 MP3 DOWNLOAD
THE CHICHARONES - WHEN PIGS FLY
MP3 DOWNLOAD
THE CHICHARONES - PORK RIND DISCO EP
MP3 DOWNLOAD
SLEEP - CHRISTOPHER
PHYSICAL CD
JOSH MARTINEZ - MIDRIFF MUSIC
MP3 DOWNLOAD
JOSH MARTINEZ - AND THE HOODED FANG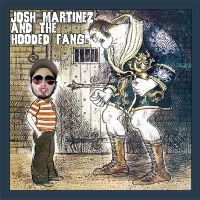 MP3 DOWNLOAD
JOSH MARTINEZ - BUCK UP PRINCESS
MP3 DOWNLOAD
THE CHICHARONES
MP3 DOWNLOAD
Record Label:
Camobear Records, Bella Union Records UK, V2 USA
Label Type:
Indie
The Chicharones (Sleep & Josh Martinez) has 6593 friends.