Play

Play Next

Add to queue
Play

Play Next

Add to queue

5,986 plays

Play

Play Next

Add to queue

7,787 plays

Play

Play Next

Add to queue

10,756 plays

Play

Play Next

Add to queue

23,307 plays

Play

Play Next

Add to queue

15,978 plays
Genre: Pop / Soul

Location PINE st micheal Bridgetown, International, BB

Profile Views: 234952

Last Login: 5/1/2012

Member Since 3/29/2006

Type of Label Unsigned

Bio

.. Check out Hal Linton's Latest videos! Check out Hal Linton's Latest videos! Check out Hal Linton's Latest videos! .. .. Hal Linton is the latest artist to be discovered by SRP ( Rihanna , Shontelle) , and 2010 will be the year that the rest of the world will discover his unique brand of modern soul music. .... Hal was born into a musical family in Barbados , Both of his parents are classically trained musicians , and growing up he was exposed to a wide array of musical traditions, from opera to Al Green , Bob Marley to Marvin Gaye . The young academic scholar began to pursue his musical dreams several years ago, and in short order had electrified the local music scene with his potent blend of great songs, exciting vocals, and dynamic stage presence. He captured Song of the Year honors at the Barbados Music Awards for his single "Cardiac Arrest", and shortly thereafter moved to New York to pursue his dreams further, joining forces with Evan Rogers and Carl Sturken of SRP Records. .... Linton , Rogers, and Sturken set about taking Hal's music to the next level, and within a few short months had crafted the core of his album , including such standouts as "Lock My Heart Down " and "Abandoned Heart" . It wasn't long afterwards that Sylvia Rhone of Universal Motown made the team an offer they couldn't refuse, and Hal realized his dream of signing to a major record label. .... Hal spent the rest of 2009 finishing his album and getting ready for its release in early 2010 ; the year culminated in an electrifying performance at the Thanksgiving NFL Halftime show for an audience of 40 million viewers nationwide , as well a feature performance at the Soul Train Awards . .... Hal Linton may have come a long way in a short time , but this cool , calm, and collected 23-year –old knows that his musical journey has just begun.

Members

Influences

Sounds Like
This video is not currently viewable.

02:59 | 1090 plays | Nov 29 2010
Bio:
Check out Hal Linton's Latest videos! Check out Hal Linton's Latest videos! Check out Hal Linton's Latest videos!
Hal Linton is the latest artist to be discovered by SRP ( Rihanna , Shontelle) , and 2010 will be the year that the rest of the world will discover his unique brand of modern soul music.

Hal was born into a musical family in Barbados , Both of his parents are classically trained musicians , and growing up he was exposed to a wide array of musical traditions, from opera to Al Green , Bob Marley to Marvin Gaye . The young academic scholar began to pursue his musical dreams several years ago, and in short order had electrified the local music scene with his potent blend of great songs, exciting vocals, and dynamic stage presence. He captured Song of the Year honors at the Barbados Music Awards for his single "Cardiac Arrest", and shortly thereafter moved to New York to pursue his dreams further, joining forces with Evan Rogers and Carl Sturken of SRP Records.

Linton , Rogers, and Sturken set about taking Hal's music to the next level, and within a few short months had crafted the core of his album , including such standouts as "Lock My Heart Down " and "Abandoned Heart" . It wasn't long afterwards that Sylvia Rhone of Universal Motown made the team an offer they couldn't refuse, and Hal realized his dream of signing to a major record label.

Hal spent the rest of 2009 finishing his album and getting ready for its release in early 2010 ; the year culminated in an electrifying performance at the Thanksgiving NFL Halftime show for an audience of 40 million viewers nationwide , as well a feature performance at the Soul Train Awards .

Hal Linton may have come a long way in a short time , but this cool , calm, and collected 23-year –old knows that his musical journey has just begun.
..
Member Since:
March 29, 2006
Members:
band members:
...... --!Begin CUSTOM Table!--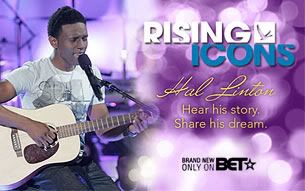 ..