Who you were in your past life
Play

Play Next

Add to queue

Play

Play Next

Add to queue

Play

Play Next

Add to queue

Play

Play Next

Add to queue

Play

Play Next

Add to queue
About me:
I am a smart women, I am a independent women who speacks her mind I am a strong beleaver in treat others the way you would want to be treated I have a good head on my shoulders I belieave there is only one person that has the right to judge a person is GOD. I hate liers, fake ass people/AKA pretenders, and a theif. My kids and family are the most inprotant people in my life my feeling on friends is true friends are hard to fine but they are still out there and Im one. If I had one wish in life it would be for every person to be concidered equal no matter there past the color of your skin where you came from or how much money you have and for everyone to be seen as the person they are inside on this day.
MySpace Graphics
&
MySpace Layouts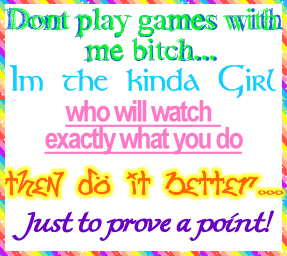 glitter-graphics.com
MyHotComments
MyHotComments
MyHotComments
Who I'd like to meet:
I like people who are drama free eazy to get along with and have a since of humor and know how to keep it real.A person that I can consiter a real friend and consiter mean the same.
Layout by
CoolChaser
.. ..
Status:

Single

Here for:

Dating, Serious Relationships, Friends

Hometown:

Dinver Co.

Orientation:

Straight

Body type:

5' 6" / More to love!

Zodiac Sign:

Virgo

Children:

Proud parent

Occupation:

DOIN ME