commented on SPELLBOUND PICTURES's profile

"Hi thanks so much for the friendship!!
Take care and have a wonderful weekend.
Roxanne "
General

EDDIE LAW VOCAL STRENGTHENING SPECIALIST Eddie has received hundreds of requests for vocal strengthening over the years from people all around the world. Finally everyone has the opportunity to study with Eddie online from anywhere and everywhere! All you need is: High speed internet MSN LIVE , YAHOO LIVE or Skype Webcam (optional) A headset/headphones and a microphone You must understand and speak English fluently to participate Step one: Email eddielawrocks@yahoo.com and attach a recent mp3 demo of yourself. Explain why you want to study with Eddie in the message. Please make your email as short and informative as possible. Step two: Fees, payment method and schedule will be attached with his reply. Serious students only please. Eddie will only be accepting a limited number of students … so hurry and sign up now!

Copy this code to your website to display this banner!

Music

..


CLICK HERE TO MESSAGE FAN CLUB.

CLICK HERE TO E MAIL .

TO PAY WITH PAYPAL SEND MONEY TO eddielawrocks@yahoo.com .


EDDIE LAW DEMO CD AND MERCHANDISE FOR SALE! NOTE:PLEASE E MAIL ME FIRST WITH YOUR ORDER BEFORE USING PAYPAL FOR PAYMENT THANK YOU ! .

..






Heroes
Play

Play Next

Add to queue

Play

Play Next

Add to queue

Play

Play Next

Add to queue

Play

Play Next

Add to queue

Play

Play Next

Add to queue
About me:
East Coast Eddie Law may be one of the best kept secrets in Rock-N-Roll for a longtime. His battleship delivery and burning vocals have been knocking the socks off listeners for almost 20 years. Born in Brooklyn, New York, Mr. Law made his mark in steamy South Florida at the tender age of only sixteen; Right-Smack-dab in the middle of the 80's big hair and big guitar revolution. His first band, Trial, won several Battle-of-the-bands and stood out amongst the many "copycat" bands of the time. He's received classical training from renowned teacher Elizabeth Sabine (Axl Rose, Steve Perry, Mike Sweet).
.. .. .. .. .. .. BIO CONTINUED....
Eddie left the small pond of South Florida for the chance to become a Big Fish amidst the Los Angeles music explosion. He played with many national acts at all the legendary clubs like, The Whiskey, The Roxy and the Troubadour. He parlayed his "live" success by capturing the coveted and lucrative World of studio vocal work.
.. .. .. .. .. .. BIO CONTINUED
In 1989 Mr. Law caught the attention of renowned manager, Wendy Dio of Niji Management (Ronnie James Dio, Rough Cutt, and Cold Sweat). It wasn't long before he was playing with seasoned veteran musicians like House of Lords' guitarist Mike Guy, Dio , bassist Jimmy Bean and Hericane Alice ,drummer Jackie Ramos. Legendary Rough Cutt singer Paul Shortino.
.. .. .. .. .. ..
BIO CONTINUED
In 1990, years of getting close but no cigar and the untimely death of his biggest fan, his dad, led Eddie back to his old stomping grounds of South Florida. Where Eddie ran across guitar legend Yngwie J. Malmsteen at The Button South. The timing couldn't have been better as Yngwie was auditioning singers for a new band he was putting together. Could Eddie finally get his big break? Yngwie was shocked at Eddie's similarities to one of his childhood hero's; the lead singer of Deep Purple. Yngwie says, "Man, he looked just like a younger Ian Gillan and his voice sounded just as strong."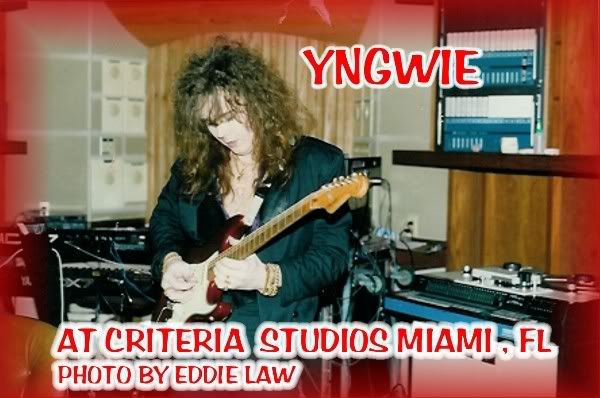 The two became quick friends, playing many impromptu recordings at the maestro's Miami studio and home. "I have to go back to Sweden for the Holidays," said Yngwie, but when I return, I will call you!" That call never came, however, and Eddie ventured back to Los Angeles. He would later find out from his guitar tech that Malmsteen decided to make a dream of his come true and hire an All-Swedish band. And so Eddie Law didn't give up.
Who I'd like to meet:
EDDIE LAW AND A LOT OF OTHER GREAT ROCK N ROLLERS!!
Copy this code to your website to display this banner!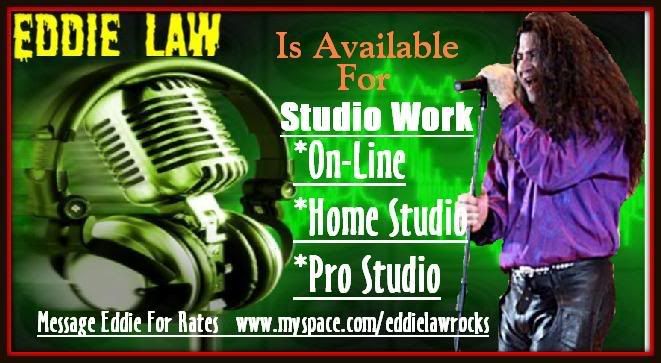 SEND A MESSAGE TO EDDIE LAW HERE!

Status:

Single

Here for:

Networking, Friends

Orientation:

Straight

Height:

5' 0"

Zodiac Sign:

Leo

Children:

Proud parent

Education:

College graduate
Education America-Remington College

Lafayette, LA

Graduated:

1997

Student status:

Alumni

Major:

Parallegal

1995 to 1997