Play

Play Next

Add to queue
Play

Play Next

Add to queue

46,403 plays

Play

Play Next

Add to queue

761 plays

Play

Play Next

Add to queue

642 plays

Play

Play Next

Add to queue

6,577 plays

Play

Play Next

Add to queue

5,166 plays
Genre: Acoustic / Classical / Hip Hop

Location L.A. O.C, California, Un

Profile Views: 170769

Last Login: 8/23/2012

Member Since 3/3/2006

Website www.beibeizheng.com

Type of Label Indie

Bio

.... .. .. .. .. .. .. ............ ....BEI BEI.... Bei Bei is an internationally acclaimed Gu Zheng (Chinese Zither) performer, composer and educator. She was born in Chengdu, China and now resides in Orange County, California. She started to play the Gu Zheng at the age of seven and received her professional musical training, majoring in the Gu Zheng at the Central University of Nationalities in Beijing, China and the Hong Kong Academy for Performing Arts in Hong Kong from several Gu Zheng masters such as Li-Jing Sha, Mu-Lan Hai, Chun-Jiang Teng, and Ling-Zi Xu. She is a multi-award winner of many national and international competitions such as the 1993 National Chinese Instruments Competition, the 1999 College Students Art Festival in Beijing and the 1st Dragon Cup International Gu Zheng Competition in 2001. Bei Bei has been collaborating with musicians from different genres such as Classical, Jazz, Alternative, Electronica, Hip-Hop, and dancers. Bei Bei has been featured as an instrumentalist and composer at venues including Knitting Factory Hollywood, Ford Amphitheater, Barclay Theater in Irvine, Illinois Wesleyan University, Gustavus Adolphus College, and National Arts Center (Ottawa, Canada). As a studio musician, she recorded for the hit Sci-fi Channel series "Battlestar Galactica". As a composer, she composed and recorded for China Central TV documentary series "Dun Huang". She released her debut album "Quiet your mind and listen" in 2006. Her collaborative album "Heart of China" with Richard Horowtiz was released by Killer Tracks in 2008. Her dance music works include "Dancing Dream" which was premiered at the Asian American Children's Dance Festival in 2007. Bei Bei was the member of the Orchid Ensemble from 2008 to 2009 and the group toured through United States and Canada. She is the director of Lotus Bud Gu Zheng Studio in Orange County, CA, where she teaches students to play and perform. Bei Bei's new collaborative album "Into the Wind" with U.K. based multi-instrumentalist/producer Shawn Lee will be released through Ubiquity Records on Jan 26, 2010. The feedback that she has received as she has introduced American and international audiences to the Gu Zheng and its broad and varied repertoire has been extremely positive. Her passion for her instrument and the beauty of her music have touched people across the world..... ........ .. .. .. .. .. .............. .. ..

Members

Bei Bei - Gu Zheng (Chinese Zither)

Influences

Life and Being alive

Sounds Like

<object width="400" height="160"><param name="movie" value="http://widget.tunecore.com/swf/tc_run_h_v2.swf?widget_id=28669"></param><param name="allowFullScreen" value="true"></param><param name="allowscriptaccess" value="always"></param><embed src="http://widget.tunecore.com/swf/tc_run_h_v2.swf?widget_id=28669" type="application/x-shockwave-flash" allowscriptaccess="always" allowfullscreen="true" width="400" height="160"></embed></object>
"Quiet You Mind and Listen" Solo Classical/Folk album by Bei Bei. Purchase the CD through Paypal. We Ship Worldwide.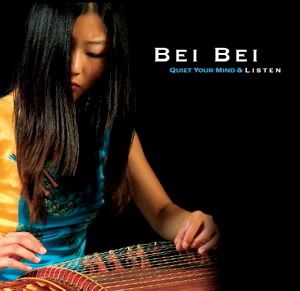 ..

U.S. buyers, Total $16 Shipping Included. Please click the text below to pay
BUY NOW
Buyers outside of U.S., Total $19 Shipping Included. Please click on the text below to pay

BUY NOW
......
Download Bei Bei's Classical Album "Quiet Your Mind and Listen"
01:18 | 920 plays | Mar 23 2007
---
BEI BEI

Bei Bei is an internationally acclaimed Gu Zheng (Chinese Zither) performer, composer and educator. She was born in Chengdu, China and now resides in Orange County, California. She started to play the Gu Zheng at the age of seven and received her professional musical training, majoring in the Gu Zheng at the Central University of Nationalities in Beijing, China and the Hong Kong Academy for Performing Arts in Hong Kong from several Gu Zheng masters such as Li-Jing Sha, Mu-Lan Hai, Chun-Jiang Teng, and Ling-Zi Xu. She is a multi-award winner of many national and international competitions such as the 1993 National Chinese Instruments Competition, the 1999 College Students Art Festival in Beijing and the 1st Dragon Cup International Gu Zheng Competition in 2001. Bei Bei has been collaborating with musicians from different genres such as Classical, Jazz, Alternative, Electronica, Hip-Hop, and dancers. Bei Bei has been featured as an instrumentalist and composer at venues including Knitting Factory Hollywood, Ford Amphitheater, Barclay Theater in Irvine, Illinois Wesleyan University, Gustavus Adolphus College, and National Arts Center (Ottawa, Canada). As a studio musician, she recorded for the hit Sci-fi Channel series "Battlestar Galactica". As a composer, she composed and recorded for China Central TV documentary series "Dun Huang". She released her debut album "Quiet your mind and listen" in 2006. Her collaborative album "Heart of China" with Richard Horowtiz was released by Killer Tracks in 2008. Her dance music works include "Dancing Dream" which was premiered at the Asian American Children's Dance Festival in 2007. Bei Bei was the member of the Orchid Ensemble from 2008 to 2009 and the group toured through United States and Canada. She is the director of Lotus Bud Gu Zheng Studio in Orange County, CA, where she teaches students to play and perform. Bei Bei's new collaborative album "Into the Wind" with U.K. based multi-instrumentalist/producer Shawn Lee will be released through Ubiquity Records on Jan 26, 2010. The feedback that she has received as she has introduced American and international audiences to the Gu Zheng and its broad and varied repertoire has been extremely positive. Her passion for her instrument and the beauty of her music have touched people across the world.

---
Member Since:
March 03, 2006
Members:
Bei Bei - Gu Zheng (Chinese Zither)
Influences:
Life and Being alive
Sounds Like:
You tell me.


Bei Bei has 17884 friends.